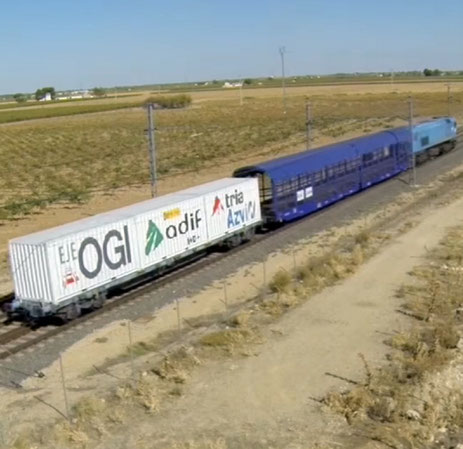 The first 50,000 km has been completed succesfully (Phase I) of service trialson the OGI variable-gauge freight Axles as specified by the ETH, Technical Specifications for Accreditation of Railway Material: Wagons.
This first 50,000 km phase was undertaken on 1,668 mm Iberian width tracks, on lines 310 Stretch: Aranjuez-Cuenca and 300 Stretch: Alcázar de San Juan-La Encina, at the maximum permitted speed and full load.
Currently, Phase II of the Service Trials is being carried out.  This consists of 50,000 kilometres on Iberian width track (1,668 mm) and, at least 20%, on UIC or international width (1,435 mm), including a minimum of 50 gauge changes, at maximum load and permitted speed. The second phase is expected to be completed in February 2018.
Once the 100,000 kilometres corresponding to Phase I and II of the service trials have been completed, the OGI axles will obtain Authorizations for Service and Circulation and they will be able to run commercial services at the maximum speed authorized, to carry out the 150,000 kilometres corresponding to the third and final phase of these tests.