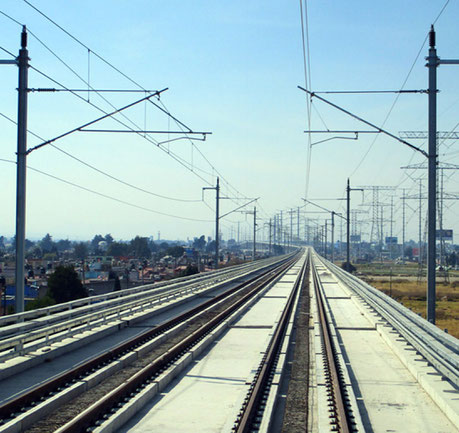 Tria is installing the track and the overhead electric line for the FI consortium in the Intercity train between México city and Toluca. 
The line is 56 km long with double track, electrified and for a max speed of 160 km/h. 90% of it runs along an elevated viaduct an the rest in tunnel. 
The track is constructed as a concrete slab track with "edilon" base plates with UIC 60 rails butt welded.
The first phase of the project comprehends 17 km of viaduct starting from the depots at Toluca as well as the depot tracks.
The track installation of this phase is finished while the catenary works will be finished on the month of January 2.018. 
The next phase of the project is expected to start on the first trimester of 2.018, when a new portion of the viaduct is due to be liberated by the infrastructure contractors.