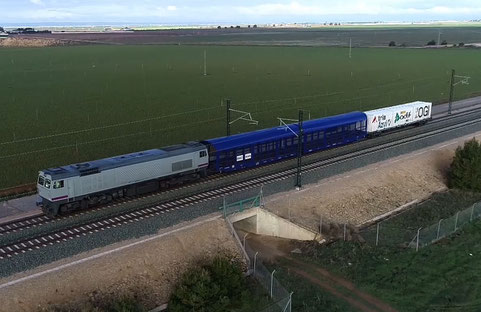 In accordance with the planned schedule Tria, Azvi and Adif have completed the second stage of testing in the accreditation process for the Variable Gauge Freight Axles with extremely satisfactory results.
This second stage consisted of 50,000km of trials along conventional or Iberian gauge (1668 mm) track with maximum authorized load and speeds. 38,900km took place on conventional gauge and 11,200 km on international gauge.
Trials along conventional gauge track took place between Alcázar de San Juan and La Encina stations, while international gauge trials were between Villarrubia de Santiago and Monforte del Cid stations on the Madrid-Bifurcación Albacete-Alicante high speed line.
Works have also continued on gauge change manoeuvres at the facility built at the La Gineta (Albacete) site.
These trials, alongside those carried out in the first stage, total over 100,000km, a record in accreditation of an axle of these characteristics.
The project will undergo the third and final stage of tests in the coming weeks. These consist of 150,000km on both track gauges.
 On achieving this milestone, the Variable Gauge OGI Freight Axles can now be used commercially and further advance the solution to the problem supposed by the existence of railway networks with differing gauges and as a consequence impeded fluid freight traffic both in Spain and along the Cross-Border Railway Axes.